‌                                              

We are thrilled to announce that PaidTabs now is not just for TABs only but much more.
This update includes all the features you've asked for and even a spurts change. Before proceeding, I would like to thank all the musicians and customers who helped us make this website a valuable resource for everyone.
Here's a list with all the changes and new features!
Major Updates
New landing page and logo design 🎨
Shopping cart for multiple product sales 🛒
Now supporting SOFORT, AliPay, cryptocurrency, and other payments methods. 💵
For better earth, we're now planting trees for every order 🌲🌎
Noticeable performance improvements. 🚀
Transcription Service
Now it is possible to request transcriptions/arrangements not just for Guitar but any musical instruments. 🎹🎸🪕🎺🎷🥁🎻🪘
Added support to MusicXML, MIDI, Finale, Dorico, Sibelius, and almost all the other software. 🎼
The request form is more clearer now and more straightforward.
Added the possibility to search transcription requests by software and type
Quick responses: Offer and delivery messages will be saved automatically to your account.
Search preferences will be stored in your account.
The minimum payout changed from US$5.00 to$20.00 to comply with the bank settlement feature.
Bank Payout
Clickable notifications
Uploading scores timestamps instead of full length only.
Scheduled Updates
Cryptocurrency payouts.
The possibility to upload files in chat.
Upload custom audio files for transcription.
Customers can leave reviews.
Customers can invite musicians to bid on their transcription requests.
The requests card will be improved to include all the details.
The ability to see customer/musicians' ongoing orders in the chat.
‌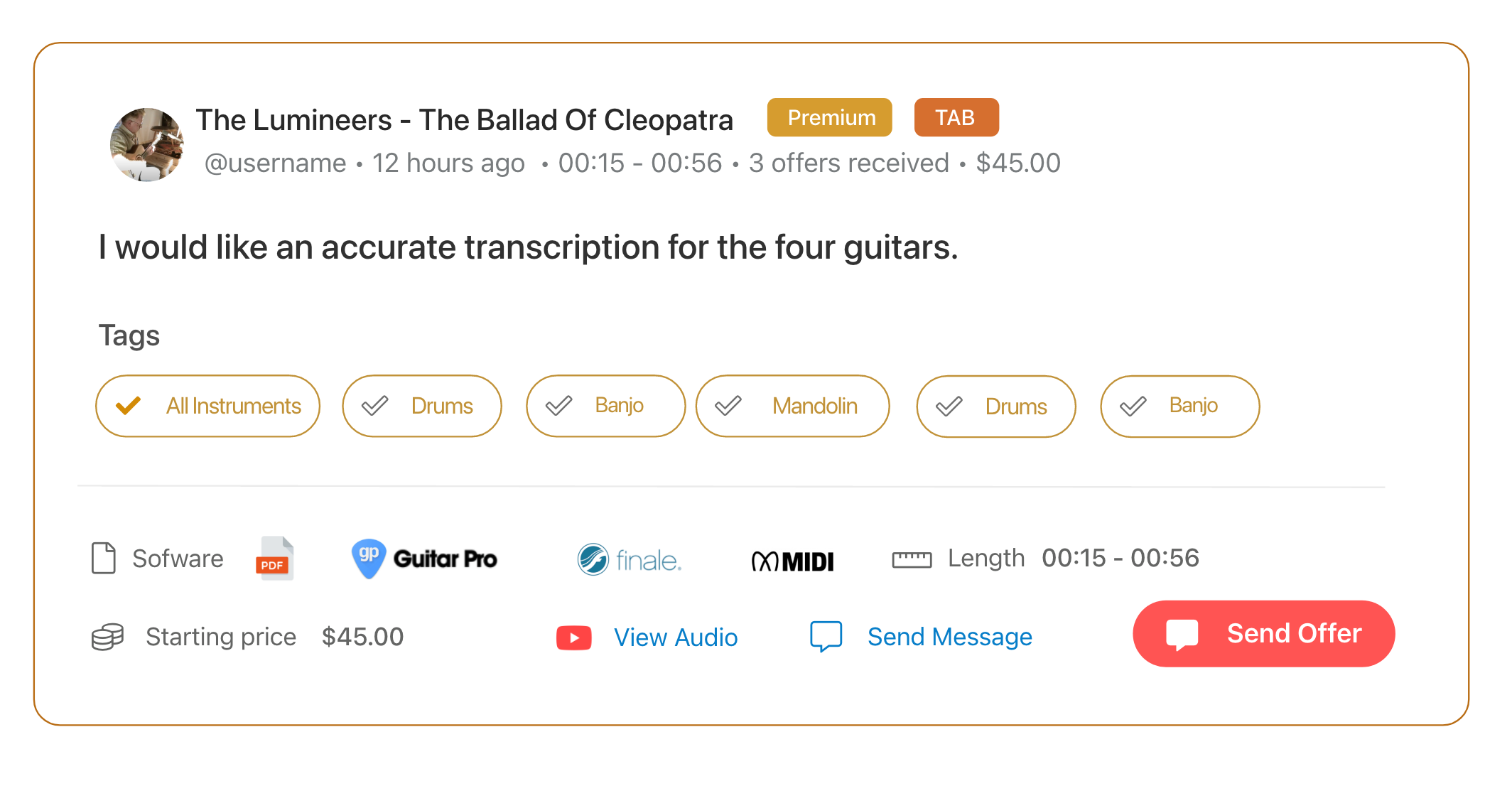 Those were just the major updates; there are more exciting features for you to find out; please go ahead and check out PaidTabs.com for extra fascinating stuff.
And guess what, we are rolling even more updates soon. PaidTabs is here for you! Thank you for being a PaidTabs loyal member.
Please send your bug reports or feature requests to liam@paidtabs.com